Northern Academy Food Drive
To start off the new school year with a (charitable) bang, Northern Academy has partnered with Centra Food Market to host a local food drive! We are using this opportunity to help raise awareness about hunger in our local communities while the months start to get colder. Food banks usually see a huge increase in the amount of people needing food in the colder months, and we want to do our part to make sure they well stocked before winter hits.
This is also providing our students with a great chance to become involved in the local community and learn more about hunger and poverty in their own communities. Our students will be helping us collect, pack, and deliver the food to the Newmarket Food Pantry.
If you want to make a donation, we have 2 drop off locations:
Northern Academy – 16775 Yonge St. Newmarket, Unit 306
Centra Food Market – 24 Orchard Heights Blvd, Aurora
Our donation boxes will be up from August 23rd – September 30th. All donations collected will be donated in joint between Northern Academy (staff and students) and Centra Food Market (staff and management). Northern Academy staff and students will be at Centra Food Market on Saturdays and Sundays, from 11:00am – 1:00pm to collect food in person and provide more information about our school to those interested. Anyone who comes to see us, whether you make a donation or not, will receive a voucher for a FREE tutoring class at Northern Academy to help celebrate the new school year!
**Please ensure that donated foods are non-perishable and not expired. Some of the highest demand items right now are: Pastas (canned or dry), pasta sauces, canned or frozen meats and fish, meat alternatives (peanut butter, soy, assorted nuts), canned goods (beans, soups, stews), dairy (fresh, canned, powdered), canned vegetables and fruits, whole grain cereals, infant foods and baby formulas, toilet paper, baby diapers, personal hygiene products (tooth brushes, tooth paste, tissues, etc…)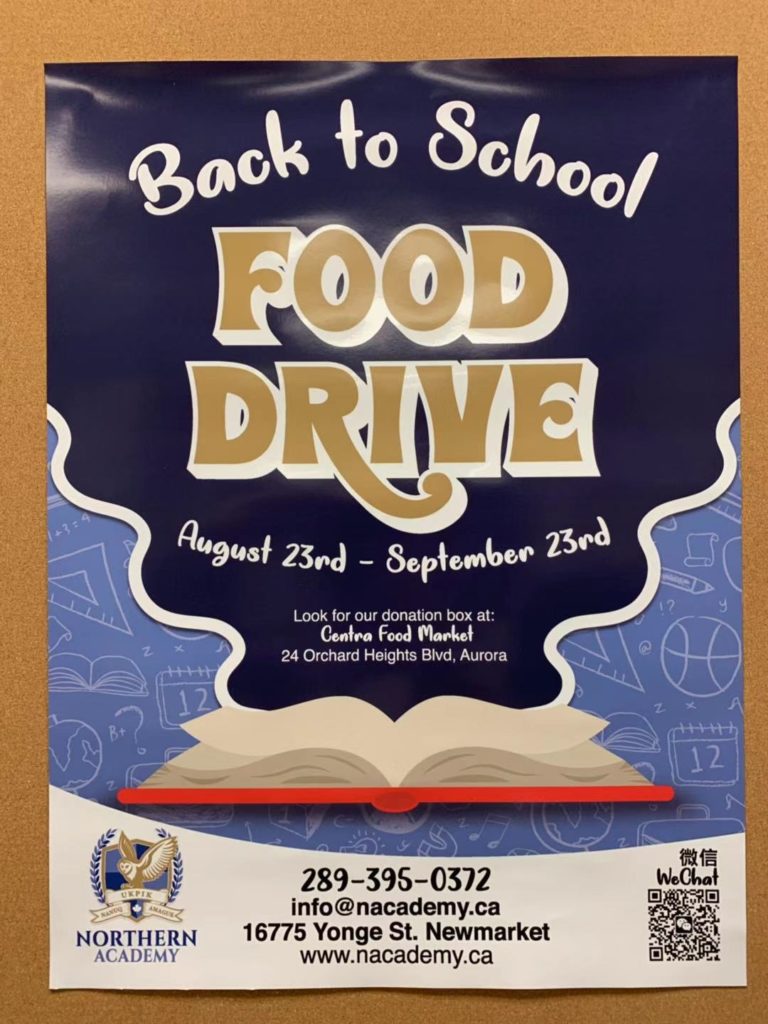 If you have any questions regarding our food drive or school, please contact us at: info@nacademy.ca